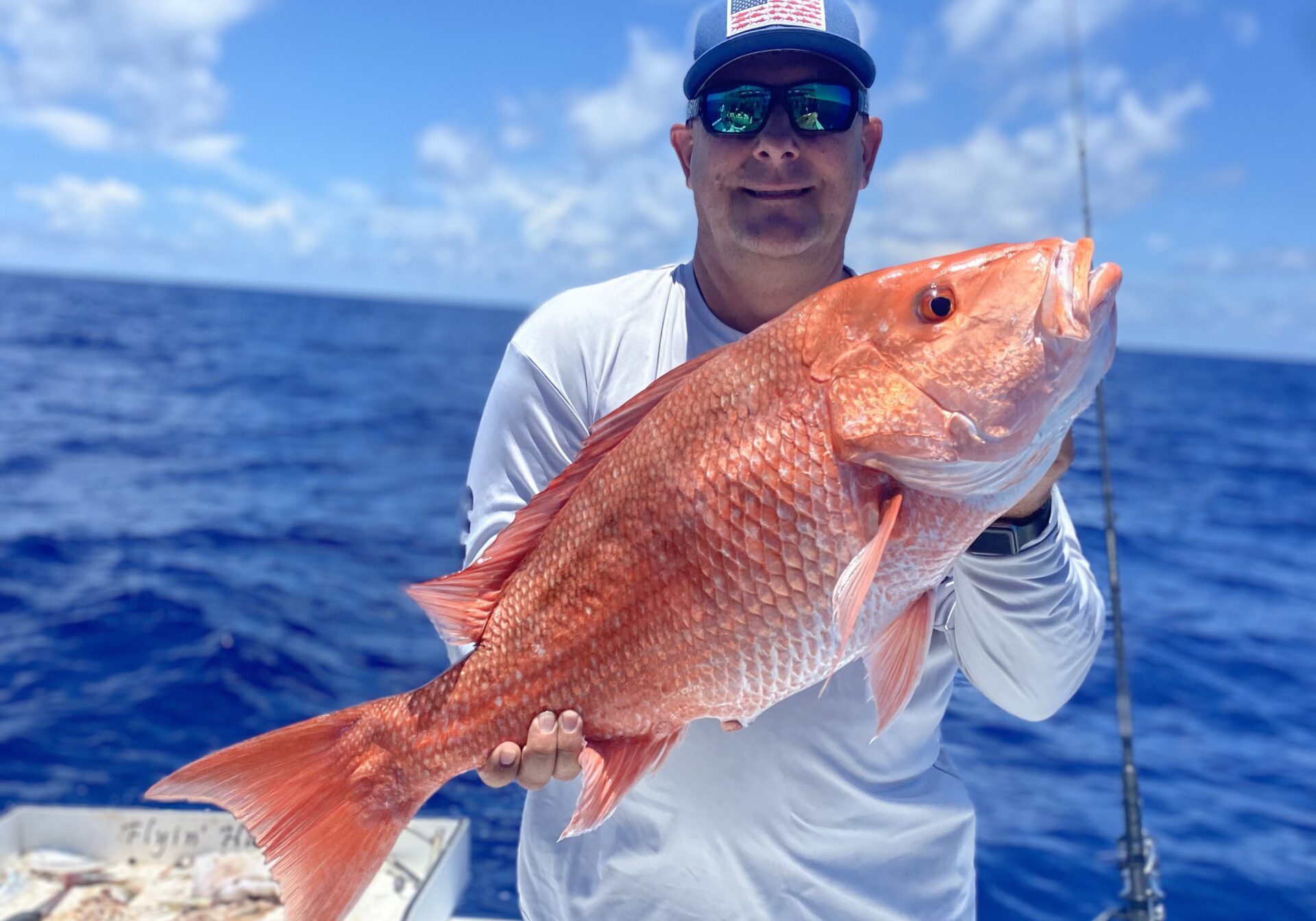 Rates for Placida Red Snapper Fishing Charters
These charters are run on our 30ft "Flyin' Hawaiian" Island Hopper offshore vessel
10-hour - $2500(40+ miles extended full day)
* Rates are based on 1-6 anglers. Red Snapper are a deep water fish and need a full day of fishing to reach the depth needed to catch them.
What are Placida Red Snapper Fishing Charters known for?
American Red Snapper (ARS) can be caught year round for sport but have a very limited harvest season. They are found in deep water, normally 50+ miles from shore, and provide a great fight. They are some of the best eating fish and are caught in excess of 10 pounds on a regular basis on our Palm Island fishing charters. Red Snapper are the target species on these charters but are not the only species caught. Other snapper, grouper, tuna, amberjack and various other species can be caught as well.
What other species will we catch on our Placida Red Snapper Fishing Charter?
Jack, grunts, blackfin tuna, permit & American Red Snapper or the occasional Mahi can be caught on our Placida Red Snapper charters.
All of these species are targeted with great confidence throughout most of the year. They provide fun for all ages and skill levels.
Bait & Tackle
Medium & heavy spinning & conventional tackle with artificial lures, live, or cut bait.
Boca Grande fishing charters require tackle that not only helps you hook the fish but also helps you to successfully land your catch. Fin-Nor reels matched with custom rods are up to the task and are the best in the industry. They are spooled with Power Pro braid & Seaguar flourocarbon leader to make the the ultimate offshore rigs.
What if I am new to fishing?
We can handle fishermen of all shapes & sizes. If you are just a beginner or even if you want to bring a child on their first trip, don't worry at all. There are opportunities at every corner in the Boca Grande area for all levels of fishing. Rest assured that you will have a great time while learning the basics from one of the best guides in the area. FUN is the number one priority on every trip!
**Remember that communication is the key to a successful fishing trip. Make sure that your Captain knows your expectations so that he can make sure that those become a reality. Please remember that the availability of species is dependent on many different factors throughout the year and that the most fish will be caught on your trip if we target the species that is biting at that time.
Capt Kaelin & Capt David aim to provide all of their clients with an enjoyable, professional & memorable fishing experience!