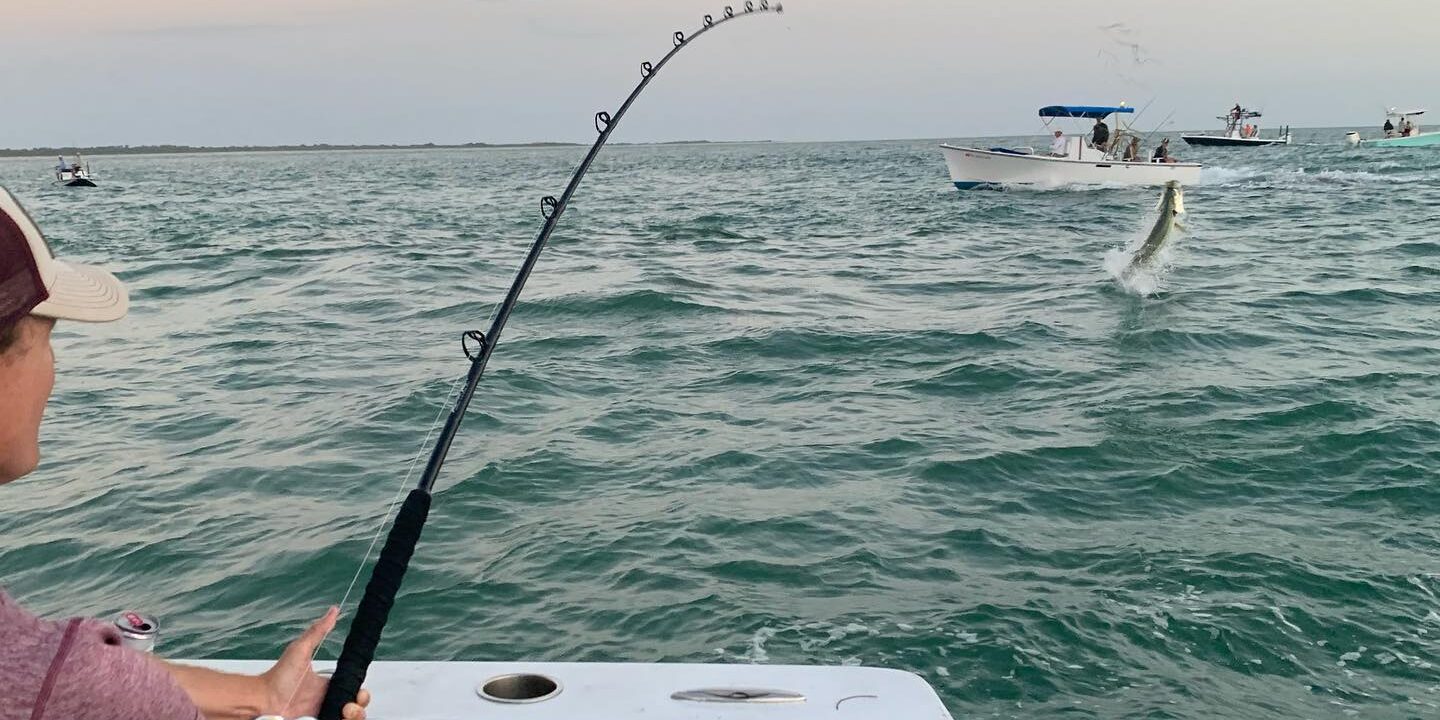 Traditional Tarpon Charters
Rates for Boca Grande Tarpon Fishing Charters
These charters are run on our 30ft "Flyin' Hawaiian" Island Hopper offshore vessel
Standard Half Tide (3 hrs) - $850 
-$200 each add'l hour 
* Rates are based on 1-6 anglers
What are Boca Grande Tarpon Charters known for?
Boca Grande is know as the tarpon capital of the world! Every year thousands of tarpon make their annual migration up the coast of Florida as the waters warm in the Gulf of Mexico. They stop in Boca Grande Pass and Charlotte Harbor for 3 months for their annual spawning.
This creates a very unique and plentiful tarpon fishery for those 3 months on our Boca Grande fishing charters. Thousands of fish can be seen daily rolling in various parts of the harbor in pods that number in the thousands. These tarpon can be targeted with great confidence in the pass, in the harbor & on the beaches. Come join us on a Boca Grande tarpon fishing trip for the fishing adventure of a lifetime!
Bait & Tackle
Medium & heavy spinning & conventional tackle with live bait only.
Boca Grande fishing charters require tackle that not only helps you hook the fish but also helps you to successfully land your catch. Fin-Nor reels matched with custom rods are up to the task and are the best in the industry. They are spooled with Power Pro braid & Seaguar flourocarbon leader to make the the ultimate tarpon rigs.
What if I am new to fishing?
We can handle fishermen of all shapes & sizes. If you are just a beginner or even if you want to bring a child on their first trip, don't worry at all. There are opportunities at every corner in the Boca Grande area for all levels of fishing. Rest assured that you will have a great time while learning the basics from one of the best guides in the area. FUN is the number one priority on every trip!
**Remember that communication is the key to a successful fishing trip. Make sure that your Captain knows your expectations so that he can make sure that those become a reality. Please remember that the availability of species is dependent on many different factors throughout the year and that the most fish will be caught on your trip if we target the species that is biting at that time.
Capt Kaelin & Capt David aim to provide all of their clients with an enjoyable, professional & memorable fishing experience!